ENHANCING YOUR CHILD'S OVERALL GROWTH
At each level, children are involved in creative processes which increase their rhythmic ability, fitness level, and movement proficiency. Their thinking and expressive capacities can be improved through opportunities to transfer skills and knowledge into efficient, accomplished movement. Participation in Oplenac dance provides enjoyment and promotes fitness and general wellbeing. Plus, it provides your child with a wide range of social skills and benefits to increase self-esteem and confidence.
"My daughter used to be very shy and reserved. Since she has discovered her love of dance her confidence has grown and she has become more outgoing. She will also have the opportunity to travel all around the world at international dance competitions and make new friends." - Dragan Kovacevic
President of Serbia and Montenegro, Mr. Vojislav Kostunica, has awarded our company with the Order of Merit of the Federal Republic of Yugoslavia, which is awarded for successful and long-term cultivation of Serbian culture, cultural heritage and national expansion cvesti. Such decoration given only so many ensembles such as "Kolo," "Krsmanac", "Abrasevic", "Spanac" and "Sonja Marinkovic". We are honored that we classified in the same row with the big names of our folklore and culture.
OWN PROPERTY - 895 RANGE VIEW ROAD MISSISSAUGA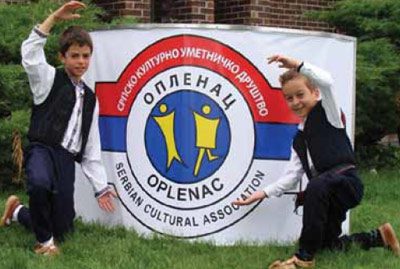 No other Serbian organization of any kind in Canada has the organizational and financial strength of Oplenac. Our home offers state-of the-art dance studios, teaching rooms and performance halls that no other organization in Canada possess.
NON-PROFIT ORGANIZATION
Any payments or voluntary work at Oplenac go to the benefit of all members, thus no individual profits from the earnings. Different dance classes for different age groups and knowledge levels. Due to the huge number of children involved in Oplenac assemblies and schools, all kids can be separated according to their age and capabilities to maximize their progress over the years. At any other club your child could be grouped with younger or much older children since they do not have enough children for each age or knowledge level. Many times commercial clubs group as many children as possible to minimize their expense on instructors and teaching rooms.
RICHEST DANCE ENSEMBLE, MUSIC PROGRAMS, DRAMA SCHOOL, SERBIAN LANGUAGE SCHOOL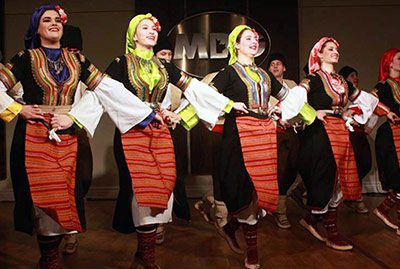 If you enroll your child in one activity, it can always switch to some other more appealing activity he or she finds, during that year. As a jewel of Serbian culture in Canada, Oplenac offers many other programs many of which on pure financial bases are not profitable. Commercial clubs offer narrow choices, many times folk dances only and programs that are profitable for them. If your child is unhappy with the program there is nothing to switch to and your yearly membership is wasted.
HIGHLY RECOGNIZED, RESPECTED, HIGH CALIBER OF FOLKLORE DANCE ENSEMBLES
There is no bigger reward for children after years of hard work than being accepted in Oplenac representative assemblies. No other Assemble in Canada, or for that matter anywhere outside Serbia, can offer this level of recognition, sense of self artistic achievement, biggest stages to perform and the biggest crowds to watch your performance. Costumes that Oplenac uses for just one choreography are more expensive than all costumes that some other clubs have in total. Many dancers spend years dancing in miniature halls, unable to showcase their talent and many times it is only there family watching them. Due to its organizational and financial strength, Oplenac will provide you with the best conditions to develop your talent. You will be performing on the largest North American stages to audiences of over thousand people many
times annually. Your talent will be nourished by the most competent and experienced choreographers. "The main reason that I chose to enroll is that I wanted to work with one of the best choreographers in the world." - Teodora Ristic