Folklore is the first and main activity of which we dealt in Oplenac from its first beginnings. Folklore is still a vital part of our identity, a growing Serbian folk dances and songs remained the focus of all our members. Members of our folklore ensembles are children of all ages and adults. Divided into groups, children from an early age learn the basics of our games, to their maturity were ready to join and preparation, and later a representative ensemble Oplenac. Our youngest players have only three years, but they have their performances at all major events of the society, including the final annual concert.
Oplenac offers the highest quality of Serbian folklore dancing. We perform in authentic costumes made with great love and desire for the preservation of Serbian culture and centuries-old tradition.
Prime Minister of Canada Mr. Stephen Harper congratulated SCA Oplenac 25th anniversary and recognized SCA Oplenac contribution in preserving Serbian culture and heritage in Canada and around the world.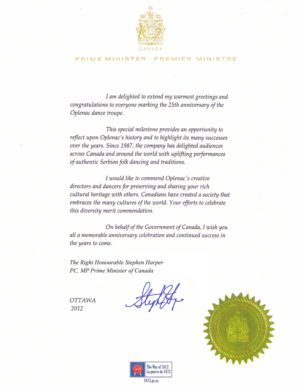 SCA Oplenac – Exclusive partner of the National Ensemble Kolo for North America
SCA Oplenac as the leading Serbian cultural institutions of the Serbian diaspora in North America signed an Exclusive Protocol on cooperation with the Serbian National Ensemble Kolo from Belgrade. Two organizations, has signed an agreement on joint activities to promote Serbian culture in the North American continent, exchange players, musicians, choreographers, joint preparation and concerts, training Oplenac players in Belgrade and the lending of original costumes for Oplenac and Kolo concert projects. Co-operation in the procurement music and choreography, and the like.
"The representative folk ensembles SCA Oplenac performed a very impressive joint concerts with KOLO, in Chicago and in Mississauga. SCA Oplenac the best Serbian ensemble in diaspora and among the top ten amateur Serbian folk groups including those in Serbia" – Radojica Kuzmanovic, director of the National Ensemble KOLO from Belgrade.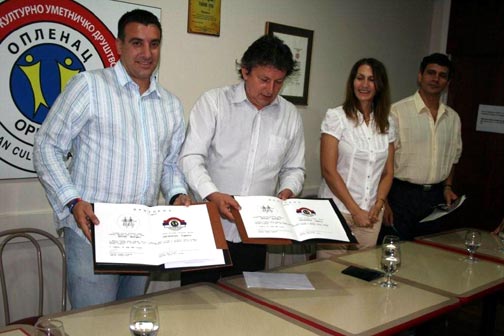 Send us an e-mail with your name, age, and activity you are interested in to:
[email protected] to pre-register, or register in person every Saturday
from 10 am to 1 pm from September to June